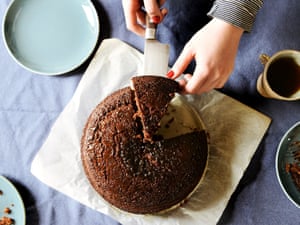 A wonderful cake for afternoon tea, or for a decadent breakfast slice.
1 cup sugar
1 cup honey
3/4 cup butter, melted
3 organic eggs
1/2 tsp vanilla
3 cups flour
1 tablespoon baking powder
1 tsp baking soda
1/2 tsp salt
1-1/2 cups strong coffee or tea*
Pre-heat oven to 350 degrees.
In an electric mixer, mix sugar, honey, butter, eggs and vanilla on high speed until thick and smooth. Mix the dry ingredients in a separate bowl until well combined.
Fold dry ingredients into wet ingredients and then add hot coffee or tea, mixing very slowly, on lowest speed.
Pour into two greased, round 9-inch pans, or one 13 x 9 inch pan, and bake for 40 -45 minutes. Let stand for 10 minutes.
*Substitute orange juice if you prefer a more citrus-flavored honey cake.